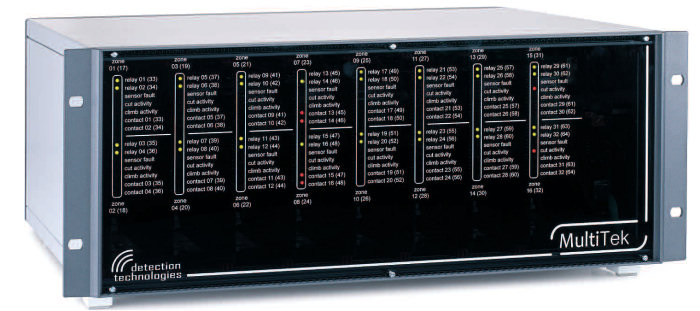 When it comes to total perimeter security, several factors go into forming an integrated package which can provide a true safeguard. Detection Technologies is one of the leading providers of all these different elements. They go towards making up an effective perimeter security system which can protect a site year after year. In this article we look at some of these products.
Protecting Your Boundaries
VibraTek is a sensor specifically designed by Detection Technologies for intruder detection at barriers and fences around the perimeter of a site. The product uses advanced vibration sensing technology which is applied to structures easily and offers a high level of performance when it comes to detection of cut and climb attacks. It offers a mechanical design which is intended to fit perfectly with fences and is understood to have a low false alarm rate, saving time and resources for organisations.
Affordable And Reliable Intrusion Detection
In order to secure smaller facilities Detection Technologies offers single and dual alarm zone analysers namely UnoTek, DuoTek and MikroTek. All three solutions transmit details of any mechanical activity through powerful knowledge based software processes. This mechanical activity could be from environmental effects like rain or snow, and the actions of an intruder - whatever is happening at your perimeter fence, Detection Technologies' algorithms differentiate reliably.
Perfect For Large Sites
When a perimeter is long, identifying the exact location of any possible intrusion takes on a new importance. VibraSector covers up to 1,000 m of perimeter fencing, and sub divides this space into up to 98 sub zones, which allows it to offer the precise point of activity which is intruder related. An advantage of the sub zones is that they allow different types of perimeter fencing to be accounted for by using the same analyser. VibraSector is the product of choice for sites such as airports, prisons and power stations.
Unrivalled Wall Protection
When it comes to walls, there are few protection systems like VibraFon, which uses point sensors to detect vibrations made by an intruder who is climbing over. Activities such as ladders being placed, drilling and digging can also be picked up with ease by VibraFon. This type of vibration based system offers advantages when compared to video or micro wave detection, as it is very discreet and means that walls need not be aesthetically altered. It is also comparatively low maintenance.
Eliminate False Alarms
Thanks to the most technologically advanced acoustic sensor cable in the world, the MultiTek protection system for fences is another Detection Technologies hit. The solution allows false alarms to be eliminated completely, and centralised signal processing routes cables to the MultiTek analyser, from where alarm monitoring and system adjustments can be made.
All in all, the most effective PID systems bring together a range of the right products to build a multi-layer security system which is capable of deterring, thwarting, identifying, and catching intruders who are determined to trespass and commit theft. Detection Technologies have positioned themselves as a market leader thanks to their extensive range of innovative perimeter security products.